Millefleur Press
is my imprint for fine press books, letterpress broadsides and bookplates. I have issued four new broadsides recently. Approximately 200 of each were printed on a Heidelberg cylinder press at Rohner Letterpress (Chicago, IL). Graphic Chemical & Ink (Villa Park, IL) supplied traditional printing inks. The paper is text-weight Reich Savoy, which is 100% cotton and archival. The editions are open.
AND RISING / FOR I RECEIVED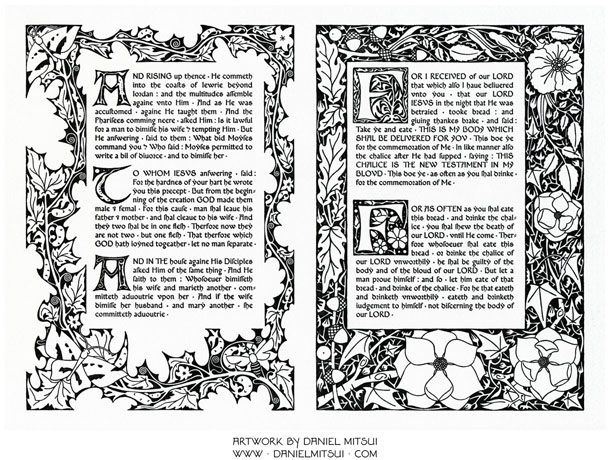 The texts on this 12" × 8 1/2" broadside are taken from an early translation of the New Testament into English, that published at Rheims in 1582. On the left page is a portion of the Gospel of St. Mark, the first twelve verses of its tenth chapter. On the right page is a portion of St. Paul's First Letter to the Corinthians, the twenty-third through twenty-ninth verses of its eleventh chapter. The typeface is Millefleur Benedict, which I designed myself.
More about this work
here
.
PATER NOSTER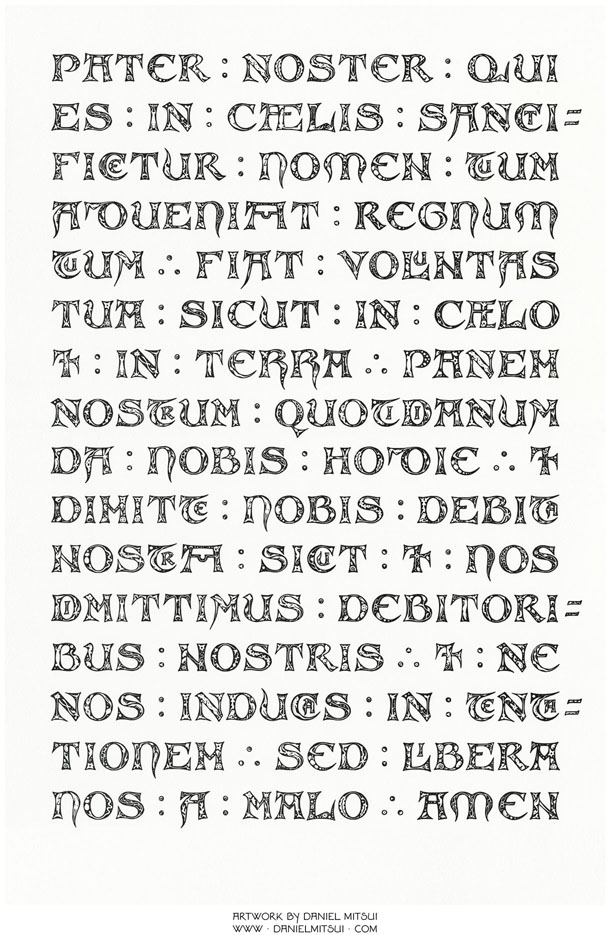 This broadside measures 12" × 18". Its text is the Lord's Prayer (
Our Father who art in heaven &c
) in Latin, set in Millefleur Victor, a typeface that I designed myself. Its letters have the basic shapes of capitals that appear in medieval manuscripts, paintings and tapestries. Their outlines are filled with tiny decorations: plants, fungi, beasts, birds, bugs and fish.
More about this work
here
.
ST. ALBERT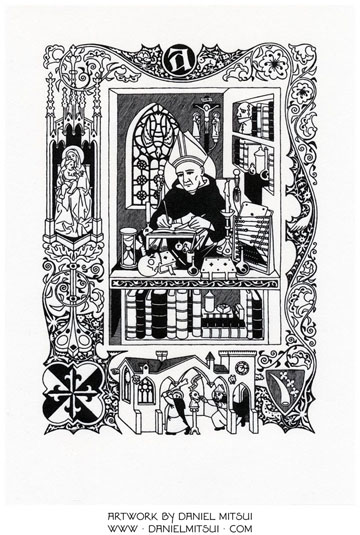 This 7" × 10" broadside depicts St. Albert the Great, a 13th century Dominican friar, bishop, philosopher and natural scientist. I drew the saint seated at his desk, writing, surrounded by his books, bottles, instruments of calculation and devotional objects.
The ornamental border contains flowering vines, tiny plants and animals, a Gothic monstrance holding an image of the Virgin Mary and Christ Child, the arms of the Order of Preachers in a quatrefoil and the saint's family arms on a shield. In the bas-de-page I illustrated an old story told of St. Albert: he spent decades inventing a mechanical head that answered questions posed to it. St. Thomas Aquinas, either annoyed or frightened by the automaton, smashed it to pieces.
More about this work
here
.
SECOND DREAM of ST. JOSEPH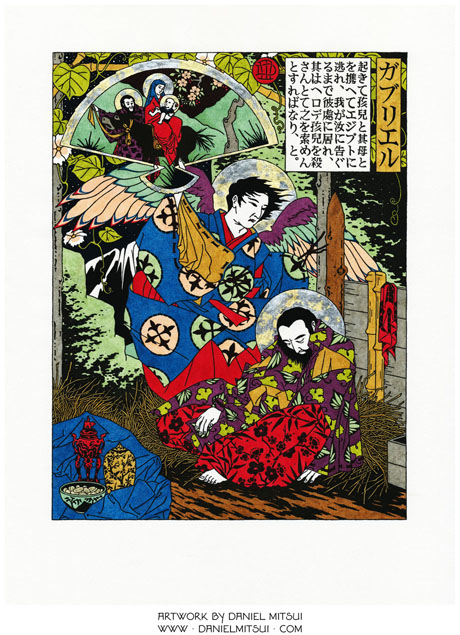 This depicts the second dream of St. Joseph, in which St. Gabriel warns him to flee into Egypt with the Blessed Virgin Mary and the Christ Child. In this work, I imitated the style of Tsukioka Yoshitoshi, a late
ukiyo-e
master. The archangel holds a fan containing a vision of the Flight into Egypt and the Miracle of the Cherry Tree. The print measures 9" × 12".
More about this work
here
.