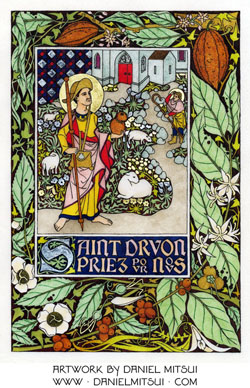 St. Drogo of Sebourg was a twelfth-century pilgrim, shepherd and hermit. My drawing refers to all three of these stages in his life. In the foreground, I drew him as a youthful pilgrim. The path on which walks leads through a field of sheep in which he appears again as a somewhat older shepherd, and ends at the hermit's cell built against his parish church where he concluded his life. Thus, the path represents both a literal pilgrimage as well as a figurative pilgrimage through life. Having the saint visible in two different places refers also to his ability to bilocate.
St. Drogo is the patron saint of coffeehouses. In reference to this, I drew the plants that yield coffee, tea, cocoa and vanilla in the ornamental border.
I drew the original on a 5" × 7 1/4" piece of calfskin vellum, using calligraphers' inks applied with dip pens and brushes. 23k gold leaf and palladium leaf were used for the illuminated details. It was created on private commission. Read more
here
.