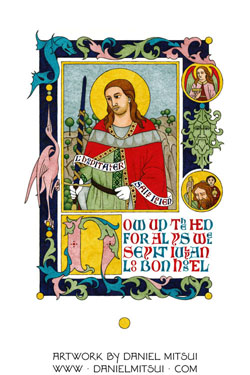 This is an ink drawing on a 5" x 7" piece of Bristol board. I drew it using calligraphers' inks applied with dip pens and brushes.
The original was created on private commission.
St. Julian the Hospitaller was a noble layman who, to atone for the sin of murdering his parents, spent his wealth building a hospital for the poor. For the remainder of his life he cared for the sick and ferried travelers across a dangerous river.
I was requested to draw St. Julian in an Italian style, a departure from my usual northern European influences. For the central portrait, I looked to trecento paintings by Taddeo Gaddi and his son Agnolo for inspiration. The color and design of the acanthus ornament and drolleries (a heraldic dolphin, a crane and a green man) I based on illuminated choir manuscripts of the same era. Small medallions in the border house pictures of St. Raphael and St. Christopher. The inscription, written in alternating blue and red Lombardic capital letters, is excerpted from Geoffrey Chaucer's
House of Fame
.
Read more
here
.