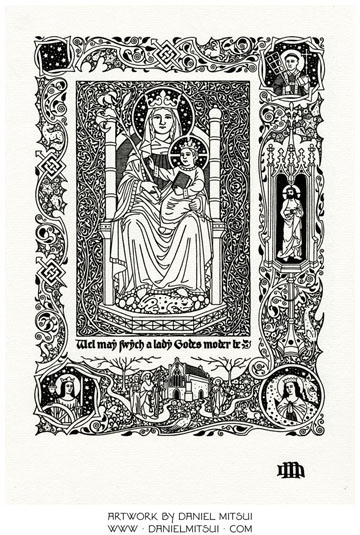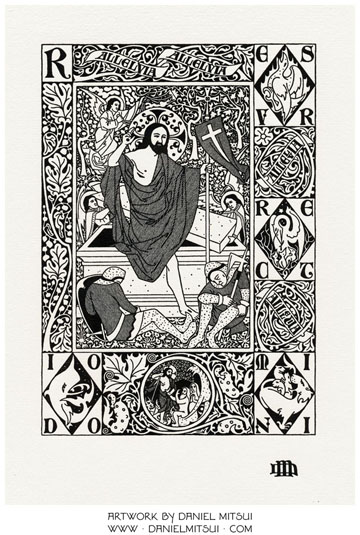 Millefleur Press
is my imprint for publishing letterpress broadsides and fine printed books inspired by the incunabula and blockbooks of the 15th century, and the books of the 19th century Arts & Crafts presses.
I recently issued two 7" x 10" broadsides, one of Our Lady of Walsingham and one of the Resurrection of Christ. Both are based on ink drawings on paper that I drew in late 2012. Scans of these drawings, slightly enlarged and modified, were used to create plate for letterpress printing.
The prints were made on a Heidelberg Windmill press at Rohner Letterpress (Chicago, IL). The printing method involves pressing a piece of paper against a hard plate whose raised surfaces are inked; this is essentially the method invented by Gutenberg that remained dominant until the 20th century. Graphic Chemical & Ink (Villa Park, IL) supplied a traditional ink made from linseed oil & furnace black. The paper was handmade from cotton pulp at Twinrocker Handmade Papers (Brookston, IN). It is a laid paper, which means that it has a slight ribbed texture from the wires in the papermaking mould.
I am coloring some of these by hand, using calligraphers' inks. Each hand-colored broadside is unique; I deliberately avoid using the same selection and arrangement of colors twice. The result is a work of art that is in one respect a print and in another an original drawing.
See
here
and
here
for more detailed descriptions of the two works.