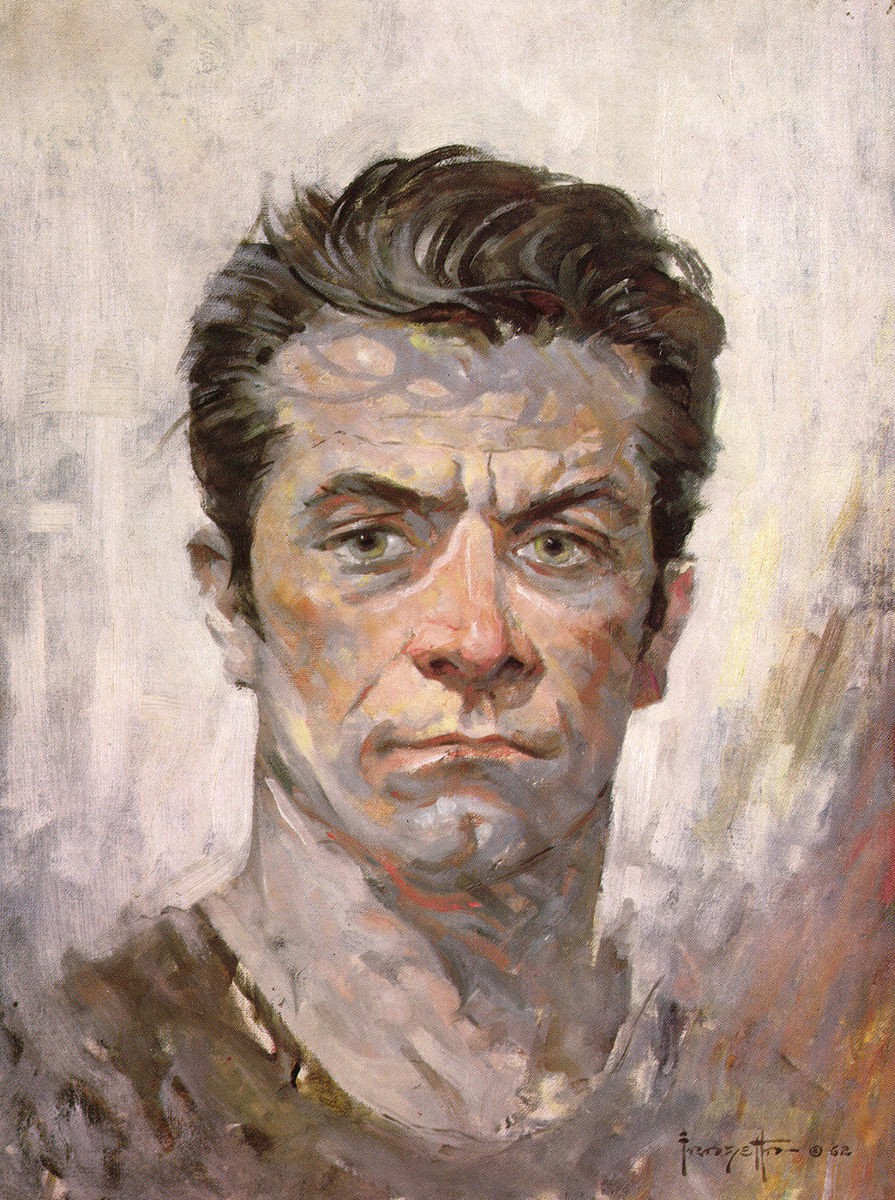 I am sure that by now, anyone for whom this is important already knows about the passing of Frank Frazetta last week at the age of 82. It has taken me this long to decide whether or not it would be appropriate to comment on his work and career here. But then over the weekend while going through my library of books about Frazetta and his work I learned something that made the decision much easier.
Frank Frazetta pretty much defined an entire genre of art. He didn't invent it of course but his unmistakable style dominated the fantasy art field. He worked in many areas but it was the book cover work for science fiction and fantasy novels that brought him wide recognition. In response to dismissive comment about Frazetta being a comic book artist, one admirer said "Frank Frazetta is not a comic book artist, he is a fine artist who sometimes works in comics."
It is the content of his work that is sometimes raises the eyebrows of the faithful. It has become common in the last few years to hear condemnation of the entire fantasy genre, both the stories and the art that sometimes accompanies it, I think it would be fair to say that Harry Potter is to the story what Frank Frazetta is to the art. The complaint is the same in both cases, it glorifies evil and magic and, in Frazetta's case, his depiction of women has been called everything from risque to downright pornographic.
Scripture tells us that we are not corrupted by things that come to us from the outside, rather we are corrupted from within. And although I recognize that there is a danger here for viewers who are young, impressionable, or weak in their faith, I do not think it is the work that is at fault. We are given gifts to build up the body of Christ, and to bring people to God. Frank Frazetta showed us the power and grace and beauty that is inherent in the human physique. And while some of his followers have perhaps taken this type of art too far into the darkness, Frazetta himself always showed us the heroic side of human nature.
At the age of 13 or 14 I discovered the work of Frank Frazetta and the work of Edgar Rice Burroughs simultaneously. Frazetta was one of my earliest artistic influences. And although in recent years his deteriorating health did not allow him to paint anymore, it is a little painful to realize with finality that we will never see another Frazetta original. As another writer put it, he was one of those old friends whom I never met.
So what did I discover over the weekend? Last year Frank's wife Ellie passed on. They were married for 53 years. Ellie was a devout Christian and Frank would occasionally paint religious themes as gifts for his wife. Including this one, titled "The King of Kings":
Just as no one can say that Jesus is Lord without the prompting of the Holy Spirit, so too can no one paint a picture of Jesus as Lord without the prompting of the Holy Spirit. Whatever one may think of the man and his work, it is clear the Holy Spirit was working on him.